Daily Archives:
January 13, 2013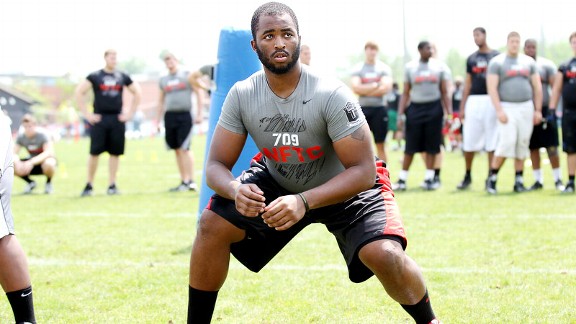 Kyle Meadows, coming to a OT spot at UK near you….
We are now 22 days away from National Signing Day, and needless to say, this weekend was extremely busy for the Cats.
Some of the recruits on campus this weekend are: Asiantii Woulard (#1 Dual-Threat QB), Jason Hatcher (#14 Defensive End), Ra'Shaad Samples (#19 Wide Receiver), JoJo Kemp (#28 Running Back), Blake McClain (#64 Cornerback), Janarion Grant (#109 Wide Receiver), Aregeros Turner (#119 Running Back), Kyle Meadows (#42 Offensive Tackle), Antoine Miles (#54 Defensive End), Jaranta Lewis (not yet ranked).  That's just a few of the guys, too.
Most of the guys got to campus on Thursday night or early Friday, and have now completed their visits.
Asiantii Woulard seems to be having a great and awful time on his visit, tweeting "enjoying this UK visit with Ra'Shaad Samples" but later tweeting " I don't think I've seen, one female since I've been here.. Haha women don't live in Lexington? Lmao."  There was a lot made of those tweets later on, but seriously, these guys saw plenty of women while they were here.  They got to do something to throw off their honeys back home, you know.
On the commitment front, UK landed 3 commitments over the weekend.  First came Lovell Peterson, a durable lineman who can play on both the Offensive and Defensive line.  Some services have him ranked as high as the #6 Center in the country, while others have him as a highly rated 3* Defensive Tackle.  Either way, he's a guy you want in your program.
Next came Kyle Meadows, a highly recruited 3* OT out of Ohio.  Meadows was being recruited by teams like West Virginia, Rutgers, Michigan State, and Florida State.
Last night word came out that Javess Blue, a top JUCO Wide Receiver, had also committed to UK.  Blue chose the Cats over Texas A&M, Arizona State, Mississippi State, and West Virginia.  Blue's 3* ranking on Rivals is a little misleading, and personally I think his 4* ranking on ESPN is much more suited for him.  Blue had over 1,000 receiving yards this season at Butler County Community College in Kansas.
In non-commitment news….
According to multiple reports, Ryan Timmons also made an unofficial visit to UK, cancelling his visit with Ohio State.  Apparently Ohio State had some other wide receivers on campus this weekend, and Timmons is waiting to see how that situation plays out for Ohio State.
Asiantii Woulard will be taking an Official visit to Clemson, per his Twitter handle.  According to Justin Rowland of Rivals.com, Clemson has yet to offer Woulard.  That said, him taking an official there is probably a sign that they do plan on offering him a scholarship.
Also according to Justin Rowland of Rivals.com, Jason Hatcher will have an in-home visit with Mark Stoops in the near future.  All that said, according to an interview he did with Steve Jones of the Courier-Journal, Hatcher is still "90-95% sure" that he'll still end up at USC.  So you're saying there's a chance…
I put Antoine Miles on commitment alert before the weekend, but he's somehow made it off campus without an official announcement.  There could be a possibility of UK waiting to accept his commitment, waiting to see what happens with Hatcher and possibly some other recruits, but I still think when it's all said and done, Miles will be a Cat.  All weekend he tweeted about how much fun he was having, and if we've found out anything lately, Vince Marrow doesn't miss out on many recruits.  It was actually Marrow's move to Kentucky that caused Miles to de-commit from Nebraska.
The commitment/signee total is now at 18, however there may be a few more spots open up in the near future.  It's also possible that both Steven Borden and Za'Darius Smith could be counted towards last year's class.  Still, with the amount of offers that are out now to guys that UK is in serious contention for, it's possible you could see spots get pretty tight as we get closer to signing day.  There are obviously some guys who room will be made for if they want to come (Woulard, Samples, Timmons, Hatcher), but there are so many quality guys that we are still after, you have to wonder if some older commits from Joker's staff aren't asked to look elsewhere if the bus starts filling up, or if some guys current offers are contingent upon other guys passing UK up.
It was a big day for UK and some 2014 recruits as well, as two 4* guys were on campus.  Both Drew Barker (Conner, KY), and Mikel Horton (teammate of Kyle Meadows), were at the UK/Texas A&M game.  According to multiple reports, it appears that UK has made up some serious ground with Barker that was lost from the previous staff not showing any interest in him.  Horton appeared to have a great time as well, and his relationship with Meadows certainly doesn't hurt anything.
2014 LB prospect Greg MiClisse says he will be taking 2 visits to UK, one in March and one in July.  If you follow him on Twitter, you know he loves him some UK fans.
All in all, a very productive weekend for Kentucky football.  And it's not over.  UK is following this week up with another busy week and another huge recruiting weekend.
Stay tuned…..
Go Big Blue!